Spring Fashion for Kids #giveaway
Posted February 23, 2018 by Prairie Wife - 34 comments
As I look outside and see almost a foot of snow, and throw on another layer to stay warm in the -22 degree weather, it's hard to imagine that in less than a month Spring will be here!
I'm a big fan of Winter, but I also delight in the warmer temps and beauty of Springtime in Wyoming. I love picking out pretty flouncy dresses for the girls. Admitibley, only one of my boys actually ENJOYS rocking a suit and tie, but I can still find a bit of joy in matching wranglers and cowboy plaid 😉 While it may seem a bit early for Spring fashion, trust me when I say it's the perfect time!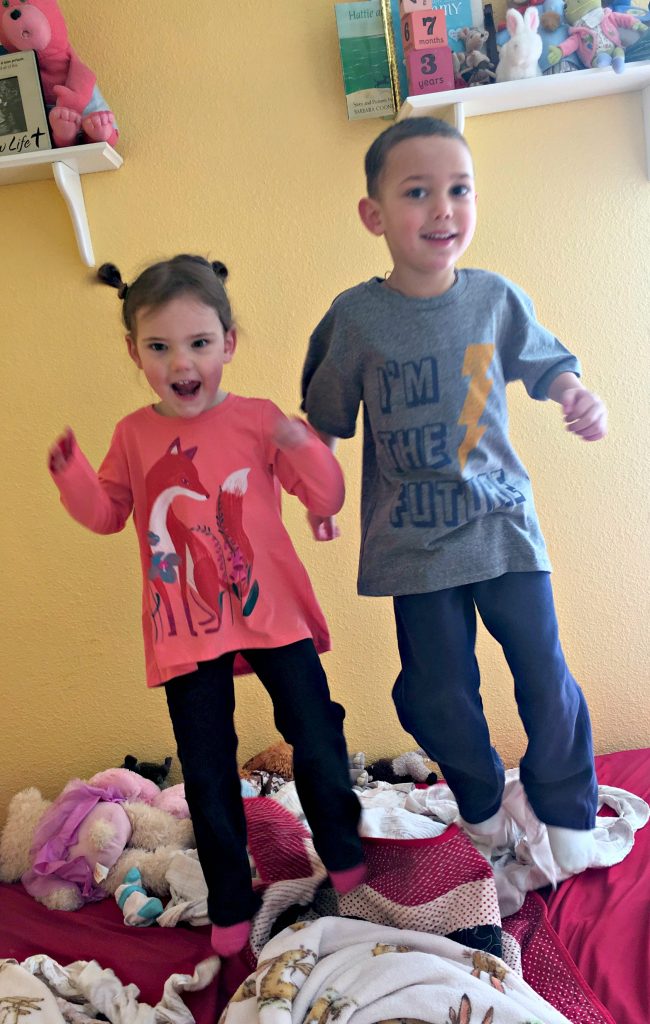 One of my favorite places to look for cute kids clothes is  The Picket Fence Shady Side  (an awesome children's boutique in Pittsburgh). I am happy to say all of the clothing we have from them has stood up to our busy Wyoming life. We've had no issues with wear and tear despite LOTS of washing. Just look at these adorable shirts I got for the two youngest Cowkids. They were so excited to get to jump on the bed (normally a big no no) for this picture lol!
The Picket Fence has stunning dresses, durable coats and play clothes, fashionable shoes and accessories, and beautiful clothing for kids (and babies) in newborn to big kid sizes. If you look at this video of Cowgirl G and her interview with our local news station, you can see her wearing her favorite pair of leggings from The Picket Fence!
Now it's your turn to enter to win $50 to spend on some fabulous Spring fashion from The Picket Fence!
All you have to do is click this link an take a look at their darling kid's clothes. Pick your favorite item and let us know what it is (and why) in the comments. You can earn extra points towards the giveaway by following us on social media.
This post and giveaway was done as a partnership with Nakturnal.
Categories: #GiveAways, Fashion, Product Reviews, Reviews
Tags: , children's clothes, coats, dreses, Giveaway, kid's clothes, picket fence, play clothes, shoes, spring fashion