Rusty The Ranch Horse #Giveaway
Posted March 26, 2018 by Prairie Wife - 4 comments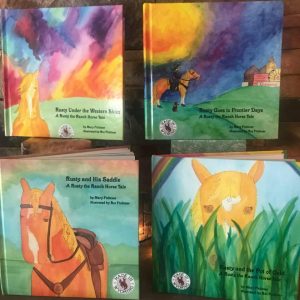 As a past first grade teacher and avid reader, children's books are my passion.
I start reading to my kids from birth on, and I've seen how it pays off.
Our Instagram feed is full of pics of Cowkids immersed in a book, or snuggling together listening while an older Cowkid reads aloud to them.
When I first met Mary Fichtner it was at our local post office, and I was looking like my normal #HotMess self. She recognized me from the blog (I can't lie it still gives me a thrill when someone asks "Are you Prairie Wife?") and started to chat with me about her books. The Rusty the Ranch Horse series is written by Mary and illustrated with bright water color pictures created by her daughter Roz.
I'm a sucker for children's books about Wyoming.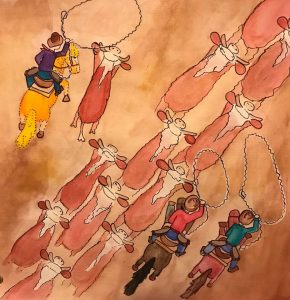 After all, there aren't many of them! When she offered to send some books to my house (and to do a giveaway on the blog) I jumped at the chance. As soon as the books arrived, The Cowkids tore into them. You can even see them reading one of the Rusty the Ranch Horse books in this news clip from K2 news!
I was impressed with the fun rhyming, and a story that not only showcased our unique Wyoming values, but captivated us all with its adventure and message! These books are fun to read aloud, and I should know, because they've been a household favorite for over a month now. The Cowboy really liked that one of the books has the Official Wyoming Code of Ethics at the end. It's something he talks about with our children often, we even have it framed and hanging in our younger boys' room.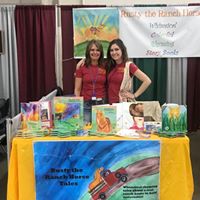 If you're interested in purchasing the Rusty the Ranch Horse Series for a special child in your life, just follow this link! If you let them know you learned about the books from PrairieWifeInHeels.com you'll receive a free coloring book. 
Take a moment to head over to Facebook and learn a little bit more about Rusty the Ranch Horse and then enter to win a signed copy of a Rusty the Ranch Horse book for yourself AND a signed copy to donate to your child's school! 
All you HAVE to do is tell us in the comments why you'd like to win a Rusty the Ranch Horse book! You can earn more points towards the giveaway by using the Rafflecopter form below.
You can contact Mary at rustytheranchhorse@gmail.com to inquire about classroom visits.
Categories: #GiveAways, Book Reviews, Reviews
Tags: , childrens books, Giveaway, made in wyoming, rusty the ranch horse, Wyoming, wyoming books