Prairie Wife Badge: Whitewater Rafting
Posted August 11, 2017 by Prairie Wife - 6 comments
It's been awhile since I've earned a Prairie Wife Badge…and wow was this a fun one!
One of the perks of being The Cowboy's wife is that every once in awhile I get to be what I call a "trophy wife."
This means I get to tag along to events and smile and be nice while enjoying a free trip, good times and great conversation. I admit I'm a bit of a people person 😉 so it's usually something I look forward to….
But this time, I was pretty nervous.
This trip involved camping and whitewater rafting with strangers, and while The Cowboy assured me that the people of the Wyoming Contractors Association were nice, it's a bit awkward to go camping with a bunch of strangers!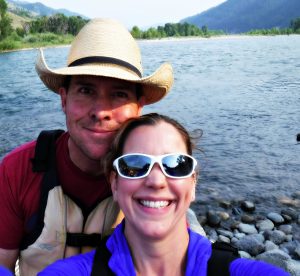 With true Prairie Wife grit and grace I packed my bag, slapped a smile on my face, and headed to Jackson Hole, Wyoming.
The drive was wet and rainy with temps at 45 when we arrived. I crossed my fingers and prayed for some sun and was thankfully rewarded with clear skies.
We met up at Sands Whitewater and changed into our clothes (I found a great swimsuit, shorts and top at Athleta)  for the first part of the journey. After a warm welcome and handshakes we boarded a bus and headed for the Snake River.
We had a lazy and lovely journey down the river to our campsite.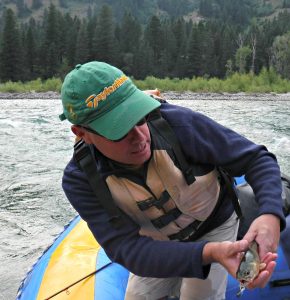 Our guide was named Danny and we quickly got to know eachother as we chatted, laughed and enjoyed the views. Pat was dead set on catching a fish, and it didn't take long before we all felt compelled to offer him some advice. We saw two Bald Eagles and took it as a good omen…
"Our" hard work and positive attitude was soon rewarded with this lunker of a fish!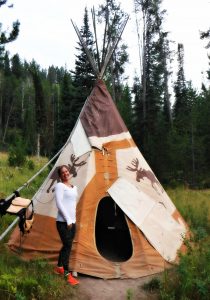 The views along the Snake River were stunning and when we arrived at camp we were greeted by the smells of dinner (steak, potatoes, corn and salad) being made. We found our teepees (first come first serve) and changed into warm clothes. Everyone relaxed, enjoyed a good meal and sat next to the fire and chatted well into the night. When it was time to head to bed we snuggled up in our sleeping bags and drifted off to sleep.
The morning was a bit cool but I was rewarded with this lovely view of the mountains and wildflowers.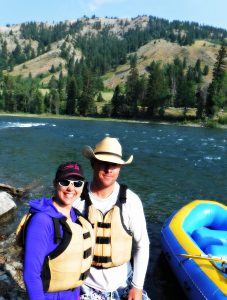 We packed up our bags and hit the river again. This time it was to head for some rapids…and this is where I started to get nervous. I'm usually not easily shaken. Snakes, spiders…rabid raccoons…bring it on. But, for some reason, I was nervous! I'm not sure why…we had life jackets, an amazing guide (this time we had Peirce) and a boat full of strong men. When I was told we were expected to help navigate the waters I gulped, and preemptively apologized for my chicken arms. I didn't realize we'd actually have to work to survive this thing…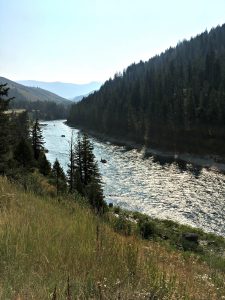 The Cowboy hopped in the very front of the boat and insisted I sit behind him. We headed down the river and while the water was calm, Peirce led us through some rowing drills. I admit that my paddle wasn't always in sync but after a few tries we all pulled together as a team and kept moving forward towards the rapids.
The first few rapids were class 2 and gave a rough and bumpy ride but, most of the water was absorbed by The Cowboy and Joe. I'm pretty thankful they were there to take the brunt of the abuse…though poor Joe may not feel that way lol! I can't lie, even with the sun shining the water was pretty dang cold. Luckily there was no wind and I'm proud to say I was barely shivering.
When we got ready to hit the class three rapids "the big kahuna" we did a paddle high five, and started to row as if our lives depended on it.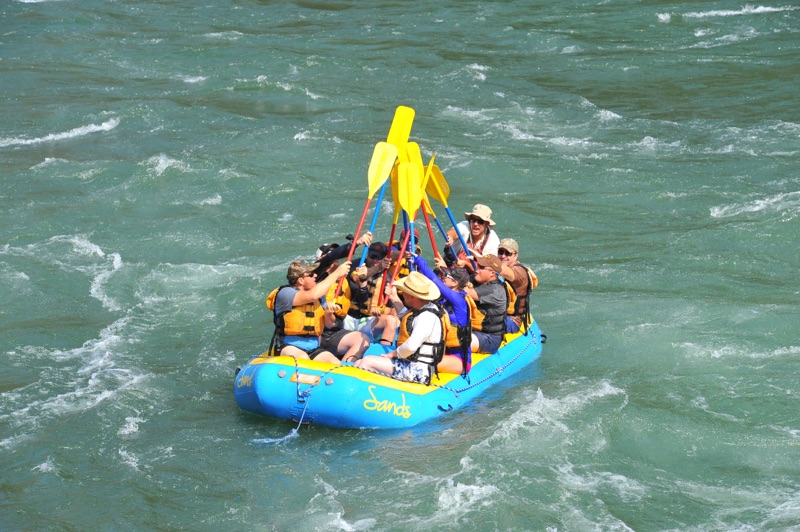 Which…maybe they did….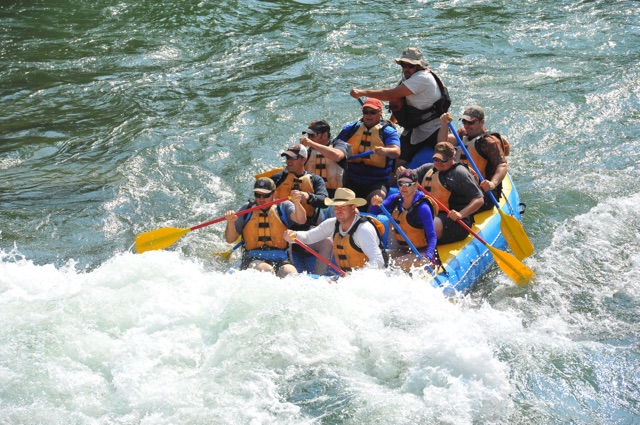 I have no idea how The Cowboy's hat stayed on through all this but, it did!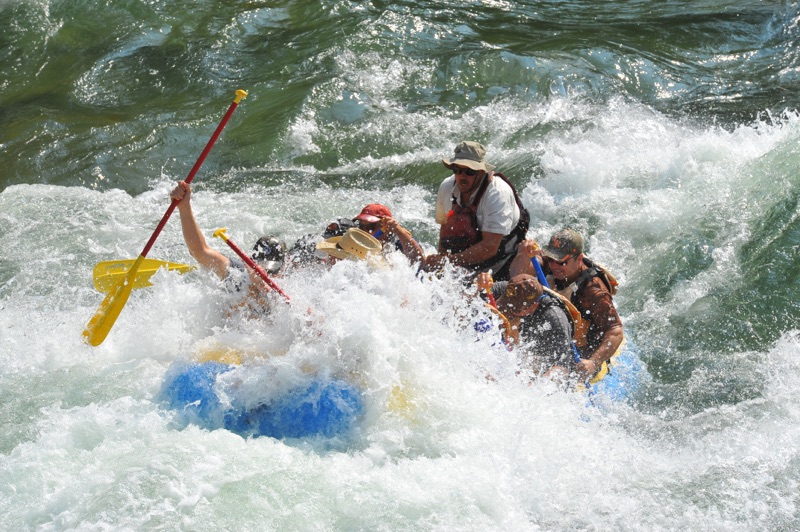 We were freezing and laughing when we came out, and hit the following rapids like the experts we were! Not a single person (or hat) was lost overboard. As we climbed out of the raft and stumbled onto dry land everyone was smiling. The beautiful views, sunshine and good company left us all feeling exhilarated (and admittedly a bit chilly).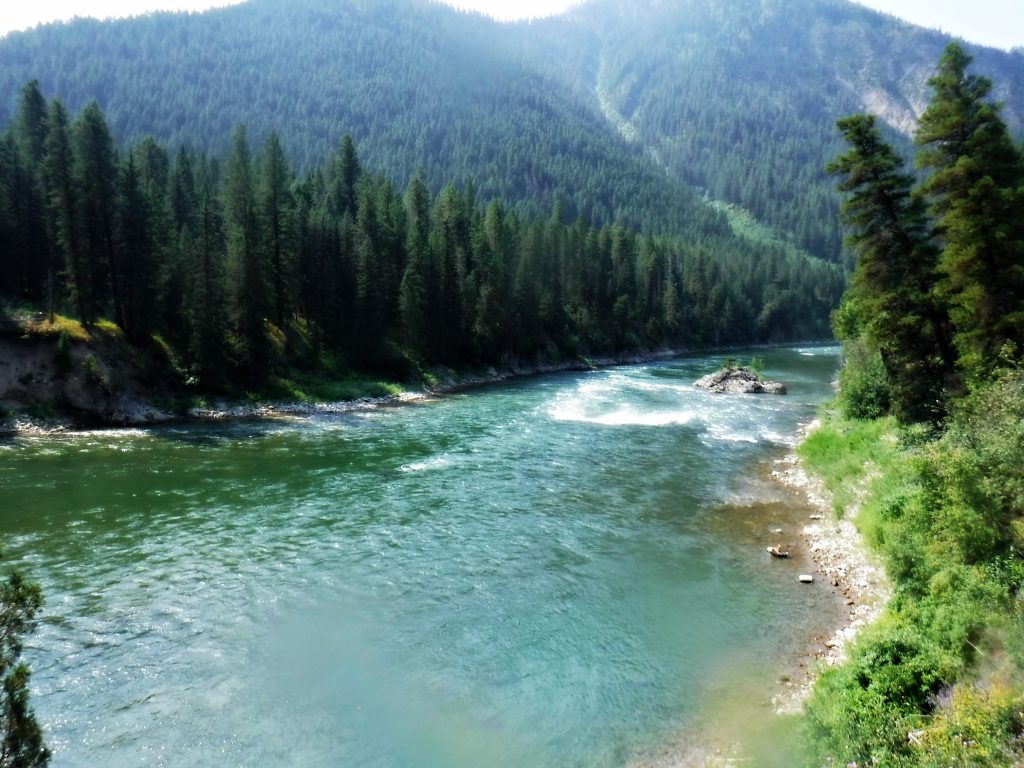 Despite my original misgivings this trip was a blast…I might even call it epic. On the way home The Cowboy and I were talking about how much fun it will be to take the Cowkids on a rafting trip like this in a few years!
This is a Prairie Wife badge that everyone should earn. I owe a huge thanks to the Wyoming Contractors Association for putting this trip together…and letting me tag along!
NOTE: I recommend that anyone that wants to go whitewater rafting goes with a guide. Every year there are fatalities on this river. I can't recommend the team at Sands Whitewater enough!
Categories: Life As It Happens, Prairie Life
Tags: , camping, jackson hole, outdoors, Prairie Wife Badge, rafting, sands whitewater, team building, Wyoming, wyoming conractors association