One Pot Mac N Cheese
Posted April 29, 2015 by Prairie Wife -
Mac N Cheese is one of my favorite comfort foods, and of course the Cowkids love it too! I've spent years trying to create just the right recipe. It's so hard to get just the right amount of cheesy yumminess without making it completely unhealthy! I can't say this is the healthiest recipe ever but, I can tell you that it's better than a blue box of neon orange powder…and if it's homemade it doesn't have any calories right!? My other favorite thing about this recipe is that it only takes one pot. No melting butter and milk AND flour in a sauce pan (trying to keep it from scorching) and then waiting while it all cooks in the oven. You can make this a heartier meal by adding cooked sausage and frozen veggies (we like broccoli or peas in ours) into the mix before you put it into the oven.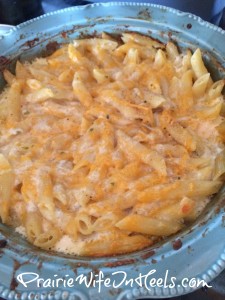 One Pot Mac N Cheese
Serves 8 Prep Time 15 minutes Bake Time 25 -30min
Ingredients
16 oz (1 lb) pasta (I usually use whole grain or veggie ziti)
8 oz cream cheese
2 cups shredded cheese plus ¼ cup set aside
1 pint heavy whipping cream
4 cloves garlic minced
½ cup bread crumbs (separated into two ¼ cups)
1 tsp onion powder
salt and pepper to taste
1. Set oven to 375.
2. Cook pasta following directions on package in oven safe pot. If you don't have an oven safe pot, cook it in a regular pot.
3. Drain pasta and place it into an oven safe dish.
4. Combine all ingredients expect for ¼ cup of shredded cheese and ¼ cup of bread crumbs. Stir well.
5. Sprinkle the top of the pasta with remaining shredded cheese and bread crumbs. Cover and place in oven for 20 minutes.
6. Bake for 5 or 10 more minutes uncovered, until cheese is melted and bubbling.
Categories: Recipes, This and That
Tags: , Easy Recipe, Kid friendly food, Mac N Cheese, Main Meal, one pot meals, recipe