Guest Posts on Motherhood and What Makes Us Be(YOU)tiful
Posted September 19, 2016 by Prairie Wife -
A few of you may have seen on Facebook and Twitter that PrairieWifeInHeels.com has been honored to be featured on two amazing Wyoming blogs JellyBeanJournals.com and TheTallMom.com.
Several readers have messaged me trying to find the links so I thought it would be easiest to put the links right here on the blog, just to make it easy for you!
What Does Being a Mom Mean to You?
"To answer this question I had to take a moment and reflect on my last decade of motherhood, and ask myself…when did I most feel like a mom?
It wasn't when I was pregnant, or giving birth. Those experiences made me feel strong and empowered but more as a woman, not as a mom.
I didn't bond with all of the Cowkids right away. Some of them it took hours, some a few days and even weeks. So perhaps that's why I don't relate to an ahah moment of holding your child for the first time."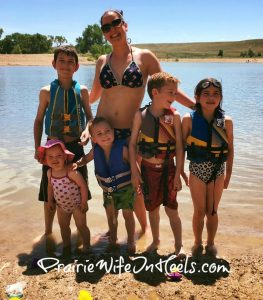 What Makes a Woman Be(YOU)tiful?
"As someone who recently chopped her breasts off, I have to say that my concept of what makes me beautiful has changed a bit this year. Not that I ever thought my boobs made me beautiful (they were never that great) but, removing part of your body and the resulting scars and emotional baggage that comes with it will change a girl."
Don't forget to read their awesome guest posts here on PrairieWifeInHeels.com where they share when they felt #strongenough
Sometimes We Don't Choose to be Strong, Life Forces Us to be #strongenough
Categories: Life As It Happens, Parenting, Prairie Life
Tags: , #strongenough, be(you)tiful, blogging, guest posts, jellybeanjournals.com, motherhood, support, thetallmom.com, wyoming bloggers