Get Ready for Family Pics with These Beautiful Baby Clothes #giveaway
Posted September 18, 2017 by Prairie Wife - 35 comments
Last week we had our yearly family photo session.
I'm the first to admit that this is NOT my favorite thing to do.
It's not just trying to get five kids and two adults to smile AND have open eyes at the same time…It's picking the perfect outfits.
The Cowboy is dead set against matching looks so I have to find a way to coordinate outfits without them being too matchy for The Cowboy's taste. Add to that a need for outfits that they can wear again that won't break the bank….and you can see why it stresses me out lol!
The first thing I do is pick the girls' outfits. This beautiful dress is similar to what I picked for LittleMissH for this year's pictures! The color goes perfectly with the blue jeans the Cowboys always wear yet, still allows us to pick from a variety of colors for the rest of the family.
 This year I went with a floral dress for me and then had each of the Cowboys' shirts match some of the colors. A scarf turned belt added a splash of color to Cowgirl G's dress and tied it into the colors in mine.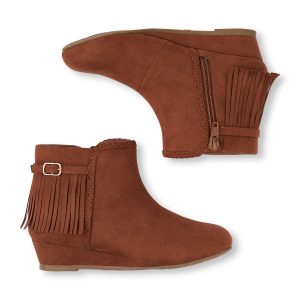 Another fun way to help create a cohesive family look is with shoes. All the boys in our picture are wearing cowboy boots and the two girls are both wearing brown booties, just look at these cute fringe ones! They are similar to the ones that Cowgirl G is wearing and I think they show her sass and style. I love adding subtle touches like this that help show the kids' individual personalities. My neutral shoes tie into the scheme but are still unique to my personal style.
If you do go for matching looks (which I think is super fun) take a look at these adorable mommy and me dresses! It'd be easy to dress the boys in the family in black or white solid color shirts and matching converse shoes. I think it's also evident that these dresses would get a ton of use in your wardrobe.
If you're looking for outift inspiration I recommend heading over to Pinterest, it's full of fabulous ideas! You can also get some great tips for how to take beautiful family pictures by following this link.
I'm super excited to let you know that we have a giveaway that will help you get a head start on picking out your outfits for family pictures. Head over to The Picket Fence Boutique and find an outfit that you think will make your family pictures beautiful. Let us know what it is, and why you love it in the comments, and you'll be entered to win a $50 gift card to The Picket Fence boutique! You can earn more points towards the giveaway by following us on social media.
Family Photo: Credit goes to Erin Potter Photography
For more great giveaways check out this Blog Giveaway Directory
Categories: #GiveAways, Reviews
Tags: , baby clothes, boutiques, family picture ideas, family pictures, Fashion, matching outfits, style, the picket fence