Finding Phillipe by Elizabeth Edmondson
Posted March 11, 2016 by Prairie Wife -
It was really hard for me to pick which Elizabeth Edmondson book to review for you…I've read 8 of her books in the last few months and loved them all. Edmondson writes "vintage mysteries" that take place in Europe in the 30's, 40's and 50's. I was first introduced to her when I began reading A Man of Some Repute . I fell in love with her characters and her writing style, not to mention the thrilling plots with just enough twists and turns to keep you guessing…but not confused! I also have to recommend Devil's Sonata which is a super creepy book about an enchanted violin that works it's dark magic over an elite English prep school.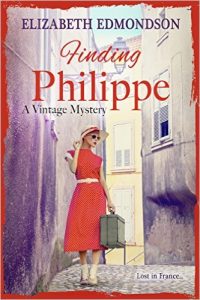 Finding Phillipe by Elizabeth Edmondson is a story of one woman's quest to find the truth about her wartime lover. As Vicky travels to France against her family's wishes, she takes the first step to not only finding out who Phillipe truly was but, learning who she is. The stories about Phillipe's life are as twisted and confused as the tales about his death. Was he an international art thief, a Nazi, an underground agent for the French Resistance, or a spy for England? Will the lawyer sent by Vicky's father find her and stop her from answering the questions in her heart? Edmondson's writing brings the beautiful landscapes of France alive, and her quirky characters add a bit of laughter to what could otherwise be a very dark plot. I enjoyed coming up with theories about the real identity of Phillipe, and found myself staying up well past bedtime to finish the book. I just couldn't wait a minute longer to see how things would end! If you're looking for a book that will keep you engaged and entertained, and a writer that you can return to again and again for great books, I recommend you try Finding Phillipe by Elizabeth Edmondson.
Have you read any good books lately? I'd love some suggestions!
Categories: Book Reviews, Reviews
Tags: , Book Review, books, elizabeth edmondson, Fiction, finding phillipe, Historical Fiction, Mystery, thriller, vintage mysteries