Deer Creek Days 2017 and Mutton Bustin'
Posted August 7, 2017 by Prairie Wife - 2 comments
We had a big weekend around here…and holy cow was it fun…and exhausting!
Every year our small town has its Deer Creek Days celebration. It's a full weekend of small town fun including a horse sale, street dance, parade, races, an antique tractor pull and a ranch rodeo.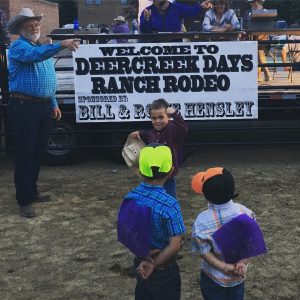 One of the most popular events is the Mutton Bustin'.
For those of you city folks that have no idea what this is, let me explain.
In this event children (in this case ages 3-7) ride a sheep and are given a score based on how long they hold on.
It's a precursor to the rodeo events that many of these kids have in their future.
We have participated in this event off and on over the years, and this was NOT our first rodeo.
The Cowkids that are participating are usually pretty pumped. Sometimes the advice of the older kids makes them a bit nervous but, under The Cowboys calm tutoring, they quickly get their head back in the game.
Admittedly, you can sometimes hear the screams of the more reluctant participants from the stands but, our Cowkids have never had that issue.
This year we participated in a Calcutta. This means that the kids that are Mutton Bustin' are auctioned off. The money goes to the pot for the winners and if your cowboy or cowgirl places you get money back! It's pretty fun to watch the kids make muscles, wave their hats around or simply stare down the crowd as they are auctioned off.
The next day began with a parade and then the two oldest Cowkids abandon us for an afternoon at the park with friends.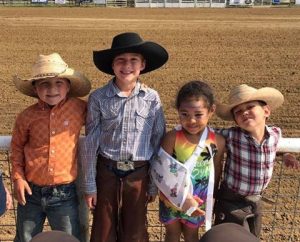 We met up again at the rodeo grounds for the first go around.
In this event they have all 30 plus kids ride sheep and then the top 10 can move forward to the final round at the rodeo later that night.
Cowboy C did an awesome job and Cowboy W snuck in at number 10 by the skin of his teeth. I can tell you we were a bundle of nerves as they announced the top 10.
We hung around and watched the first few events of the ranch rodeo. I thought the wild cow milking was pretty crazy but felt that TallGirlJ and I could do pretty will in the hide race (with her riding the horse and me being drug behind on the "hide"). When it came time for the boys to ride we were surrounded by friends cheering them on, I can't tell you how amazing it is to have such wonderful people in our lives! Take a second to watch the video clip below to see how they did.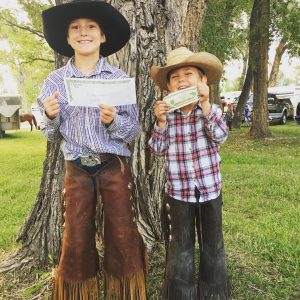 We were pretty excited that Cowboy W placed second and won a new pair of boots! Cowboy C didn't place but, the gentleman who bought him at the Calcutta was so proud of him for taking a reride that he gave him $20 to help encourage him to ride again next year.
As I sat in the stands with my friends chatting away, enjoying the beautiful weather, and cheering all the kids on, I couldn't help but smile.
Events like this are one of my favorite things about Wyoming.
Photo Credit: TallGirlJ CollegeBFF and Devonie Mueller
Categories: Life As It Happens, Prairie Life
Tags: , deer creek days, mutton bustin', ranch rodeo, small town country living, Wyoming