Catch and Release
Posted August 2, 2017 by Prairie Wife - 2 comments
I love Wyoming!
I can think of no better place to raise my children.
Not only are the people welcoming and kind but, the opportunities to immerse yourself in nature are never ending.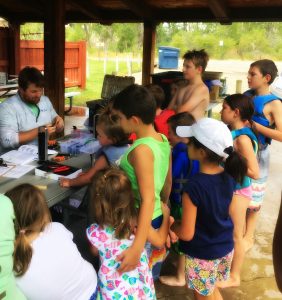 A month ago The Cowkids and I, along with some friends, headed to our local state park for some beach time. After swimming we settled under the shade of a tree for a picnic when we were approached by a member of our local Audubon society.
He invited us to come watch him tag and record information about some local birds. Always up for a learning experience, we ran over and The Cowkids and their friends watched fascinated as Zach explained what he was doing.
Imagine their delight when he told them they could help release the birds!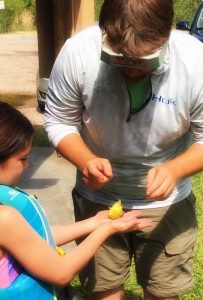 We spent the next 45 minutes entranced by all that we saw. And every child had a turn setting a bird free.
Zach let us know his schedule, and we promised that we would make sure we saw him again…which leads us to today!
When we pulled up to the park the kids saw Zach and his volunteer crew and began to scream and wave.
It must be hard to be such a hero 😉
We headed down to the beach, and he promised he would call us up when it was time to record and release the birds…which of course he did.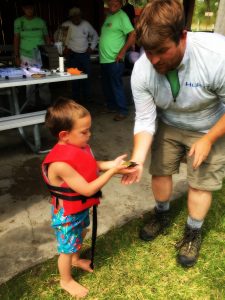 I've always known about the good work that the Audubon Society of the Rockies does for our local bird population (and nature in general) but, people like Zach who take the time to engage the community are doing SO much more than they know to foster a love and respect for nature!
You can follow this link to see his Summer schedule and get this…they'll be working with owls this fall!
When Cowboy C heard this he begged me to put it on the calendar so "we don't miss it!"
Any local schools (yes that means homeschool groups too) that would like to participate in this amazing educational opportunity can contact Zach through this email zhutchinson@audubon.org about scheduling a session!
Zach is also working on a blog which will be up and running next month FlockingAround.com so make sure you check it out.
Categories: Life As It Happens, Prairie Life
Tags: , audubon, audubon society of the rockies, birds, local events, science, tagging birds, Wyoming