An Up Close Look: SkinWave HydraFacial
Posted January 15, 2021 by Prairie Wife -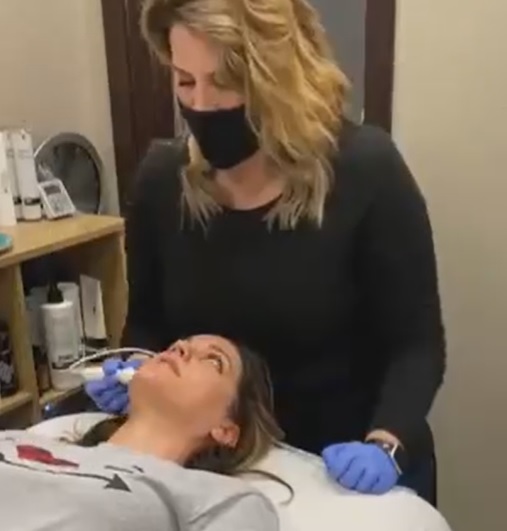 Wyoming's dry windy winters are here, and my skin is definitely showing the effects of all my time outside skiing and snowshoeing. Thankfully Stirling Skincare Clinic now offers the SkinWave HydraFacial.
The SkinWave Hydra Facial is a no-fuss NO DOWNTIME (that means no redness, peeling, or recovery time afterward) super hydrating facial.
Take a look at this video where Rachael and I describe the process, show you what happens during the treatment, and then give you an up-close look at the results.
View this post on Instagram
I can't believe how easy this treatment is…and how immediate the results were!
Let's go over the specific details of the SkinWave HydraFacial again.
Hydrogen therapy for a multi-dimensional skincare treatment
Multiple hydrating solutions are infused deep into the skin (solutions rich in Alpha Hydroxy Acid, Beta Hydroxy Acid, Hyaluronic Acid, and Hydrogen)
Gentle extraction removes impurities
Takes 30 minutes and cost is $125
What are the benefits?
Glowing skin (thanks to the hydration and extraction)
Reduced appearance of wrinkles
Reduced redness (more even skin tone overall)
Smoother skin
With repeated use, fewer acne flareups
What are the post-care instructions?
None
Yup, NO DOWNTIME
Just follow your normal skincare routine
I know I say this with every treatment I receive at Stirling Skincare Clinic (and legit I haven't had a bad experience yet) but the SkinWave HydraFacial may be my NEW favorite treatment!
Call 307-203-3854 to schedule your appointment.
Categories: Beauty, Prairie Wife Style, Product Reviews
Tags: , hydrating facials, skinwave hydrafacial, stirling skincare clinic, winter facials, winter skin treatments