Quick and Easy Roasted Red Pepper Pasta
Posted January 4, 2014 by Prairie Wife -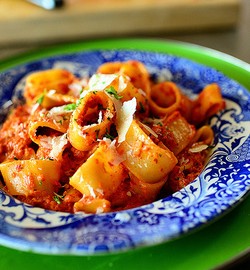 There are some things I am great at, making pie and exaggerating stories for humor. Some things I am O.K. at, designing recipes and keeping the floor swept. And some things I am just no good at, folding and any organized sport know to man. So, rather than spend hours in the kitchen coming up with something new for my family and readers this week, I went to someone who is a genius for inspiration, your hero and mine, Pioneer Woman.
We are carboholics around here, and have pasta at least once a week. But, there comes a time when I am sick of the same old rotation of Spaghetti, Baked Ziti, and Lasagna. Last year I was surfing the internet with the same problem, and as a result I learned how to make a super easy and delicious Pasta Carbonara (I'll be sharing it with you soon). So once again as I felt myself dreading another meal of the same old same old, I hit the world wide web to answer the question "What's for dinner?"
Pioneer Woman's Quick and Easy Roasted Red Pepper Pasta recipe is aptly named; I made it in less than 45 minutes from start to finish. And that was with all three Cowkids bopping around asking me questions and Cowbaby crawling around the kitchen and getting underfoot. It was a huge hit with my Prairie Family and Ma and Pa (they are visiting)! The only changes I made to her recipe were to use whole wheat pasta, Asiago Cheese rather than Parmesan, and I cooked up some Italian Sausage to add to the pasta (I knew The Cowboy would need meat). Let me know how you like the recipe, and what changes you make. When you stop by Pioneer Woman's site to get the recipe let her know Prairie Wife sent you!
Ingredients
• 12 ounces, weight Pasta Of Your Choice (I Prefer Short Ones Like Rigatoni, Penne, Etc.)
• 4 Tablespoons Butter
• 1/2 whole Large Onion, Finely Diced
• 3 cloves Garlic, Minced
• 1 jar (15.5 Ounces) Roasted Red Peppers, Drained And Roughly Chopped
• 1 cup Vegetable Or Chicken Broth
• 1/2 teaspoon Salt, More To Taste
• Freshly Ground Black Pepper
• 1/2 cup Heavy Cream (more To Taste)
• 1/2 cup Parmesan Shavings (more For Serving)
• Finely Minced Parsley
• Chopped Fresh Basil (if You Have It!)
Click on this link to see the directions for how to make Pioneer Woman's Quick and Easy Roasted Red Pepper Pasta
photo credit goes to thepioneerwoman.com
Categories: Recipes, This and That
Tags: , Main Meals, Pasta, Pioneer Woman, spicy, vegetarian