Easy School Night Stuffed Pepper Casserole
Posted August 27, 2021 by Prairie Wife -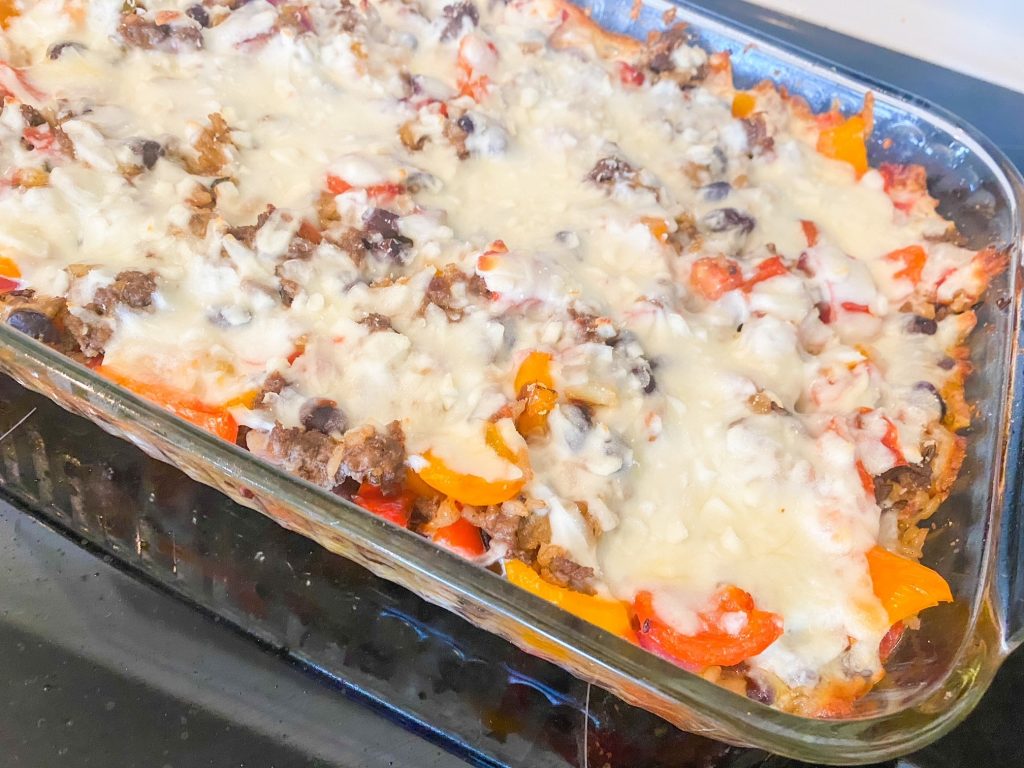 My Simple Stuffed Peppers are a family favorite, and one day I found that I wanted to make them for dinner but didn't have enough Peppers…so it was out of pure desperation that I created this Stuffed Pepper Casserole.
It's a crowd-pleaser AND one of those meals that takes less than 15 minutes to prepare, which makes it perfect for school nights.
NOTE: I use 2 lb of meat because my older Cowkids are participating in sports and need more protein, plus it keeps them full longer. Also, create an easy vegetarian meal by leaving out the meat.
Easy School Night Stuffed Pepper Casserole
Prep: 15 minutes Cook: 20-30 minutes
Ingredients
2 lb ground elk or beef (shredded chicken works great too)
2 bags of microwaveable Quinoa and Garlic Brown Rice
1 cup of shredded cheddar cheese
1 can of black beans
1 can of Rotel Original Diced Tomatoes and Green Chilies (I use mild for the kids)
4 Large Sweet Peppers chopped
1/4 medium Onion Diced
1 1/2 cups shredded mozzarella cheese
2 cloves minced garlic
Salt and Pepper to taste
Preheat oven to 375
In a large deep stovetop pan combine meat, garlic, salt, and pepper and begin to cook on medium heat.
When meat is 1/2 way cooked add peppers and onion, cook until done.
Cook rice in the microwave.
Combine all the cooked ingredients (meat, rice, peppers, and onions) as well as Rotel, drained black beans, and cheddar cheese in a glass baking dish. Stir well
Sprinkle top evenly with mozzarella cheese.
Place in oven and bake until the cheese is melted and ingredients are bubbling (approx 20-30 minutes).
Serve your Stuffed Pepper Casserole warm and keep leftovers in the fridge for a quick and healthy lunch the next day.
Categories: Recipes, This and That
Tags: , easy recipes, healthy meals, quick recipe, school night recipes, stuffed pepper, stuffed pepper casserole, vegetarian meals