Bared To You by Sylvia Day
Posted February 8, 2014 by Prairie Wife - 2 comments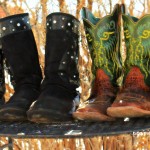 This post was contributed by TallGirlJ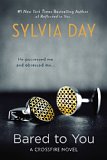 If you were a fan of the Fifty Shades of Grey trilogy, The Crossfire Series  by Sylvia Day is a must read! If you like romance, drama, and suspense look no further. But beware; this series will suck you in. The male main character is Gideon; a Billionaire with a lot of deep secrets.  Our leading lady is Ava; a woman who has her own money but hates it for the demons it comes with. Her best friend Cary has his own crazy past (and I have to mention he is bisexual too, drama and more drama).
The first book Bared to You by Sylvia Day, starts with Ava and Gideon "bumping" into each other, from that point on they can't get one another out of their minds. As the story continues Day throws in ex-Fiancés, famous ex-boyfriends, and a sexaholic best friend who can't commit. I was constantly left wondering what will happen next. Why did Gideon turn ice cold towards Ava again? Will Cary commit to his boyfriend (or will it be his girlfriend)? Will Ava change Gideon into a committed man and make him give up his hotel suite he has reserved for one night stands (shocking right)?
Needless to say, I read all three books in Sylvia Day's Crossfire Series in less than a week, ignoring my kids and skipping sleep. The story will rope you in and keep you wanting more. There are so many more juicy twists and turns I wanted to share with you, but I don't want to spoil the book for you.  Just trust me, once you start, you're guaranteed to be sucked in!
Warning: The only thing that will disappoint you is the fact that there is a fourth book yet to come out. I am stalking Sylvia Day's site, waiting for the news that the fourth book in her series, Captivated by You has finally been released!
Categories: Reviews
Tags: , Adult Fiction, Book Review, TallGirlJ