Backroad Boutique #Giveaway
Posted February 27, 2017 by Prairie Wife - 40 comments
It's the final day of our "We LOVE Our Readers" month of giveaways…and what a month it has been!
I thought it would be awesome to end with a giveaway that not only comes from an amazing Wyoming business but, shows the spirit of this state I've come to love so much! After you learn about the Backroad Boutique, stop by the end of this post to enter to win your very own bag.
Living in Wyoming you never know who you'll meet or run into. When I learned that Cowboy J's homeroom and reading teacher (Reba) also happens to be a neighbor, and the owner of a small business called Backroad Boutique…I knew I had to share her story with our readers!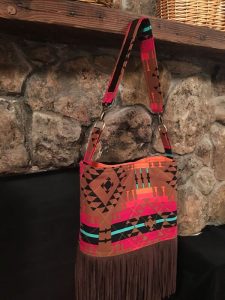 Backroad Boutique is a Wyoming based business that was the brain child of Reba and her mother, Melony. Last year, Melony decided to split her time between Nevada and Wyoming. She realized that while she didn't want a serious job, she needed to have a way to fill her time and pay for her trips back and forth. Reba is a young mother, teacher, and Cowgirl (she teaches at the local college and offers riding lessons) and suggested that there was a need for fashionable and functional bags. She told her mom that her sewing skills would be perfectly put to use creating custom bags that were both versatile and cute!
Reba and Melony spent hours working together until they created the perfect custom bags for women on the go. Not only are the fabrics durable and easy to wipe off but, they are fun too! Take a look inside these bags and you'll see how much thought they put into their design. The pockets are perfectly sized for your cell phone, pens, gum and lipstick. The inner zipper pouch is big enough to hide anything you need to keep tucked out of the way. My favorite touch is the clasp where you can quickly hang your keys so you don't need to waste precious time digging around the bottom of your bag! The straps are perfectly measured to hang comfortably while not slipping off your shoulder, and the bottoms of he bags are reinforced to help them to keep their shape and stand up to being slung around and set down anywhere.
As a fashionista I love that their fabrics range from funky modern prints to a decidedly western look. When creating a custom bag you can pick to add unique touches like fringe, metal studs, quilting, and even charms to attach to your straps. That's the best part about Backroad Boutique bags, not only can you order their bags that are already made (stop by their Facebook Page to see some photos), you can create a one of a kind bag for you or your loved one. Their sizes range from small to large, and they have a variety of styles including tote, messenger and crossbody. Their medium size is generously enough sized that it could easily work as a diaper bag, and their larger size could fit an iPad or even a laptop computer. They use real leather as well as sturdy metal hardware and zippers on their bags, so you know they'll stand up to the test of time…and life as a woman on the go!
Now for the fun part…a Giveaway!
Take a look at this awesome Wyoming Bucking Horse Bag! All you HAVE to do to enter to WIN is like the Backroad Boutique's Facebook Page and comment below with what you MUST have as part of your purse. Maybe a long strap or a sturdy bottom, or you might be like me, and insist on a zipper pocket on the inside of your purse. You can earn more points towards the giveaway by liking and following us on social media.
Categories: #GiveAways, Fashion, Reviews
Tags: , bags, custom bags, custom purses, Fashion, Giveaway, purses, small buisness, style, Wyoming, wyoming buisnesses