An Up Close Look: IV Hydration Therapy
Posted October 29, 2019 by Prairie Wife -
You know me, I'm pretty much up to trying anything at least once!
So, when the gals at Stirling Skin Care Clinic asked me to do a LIVE Facebook trying out their IV Hydration Therapy I was 100% game.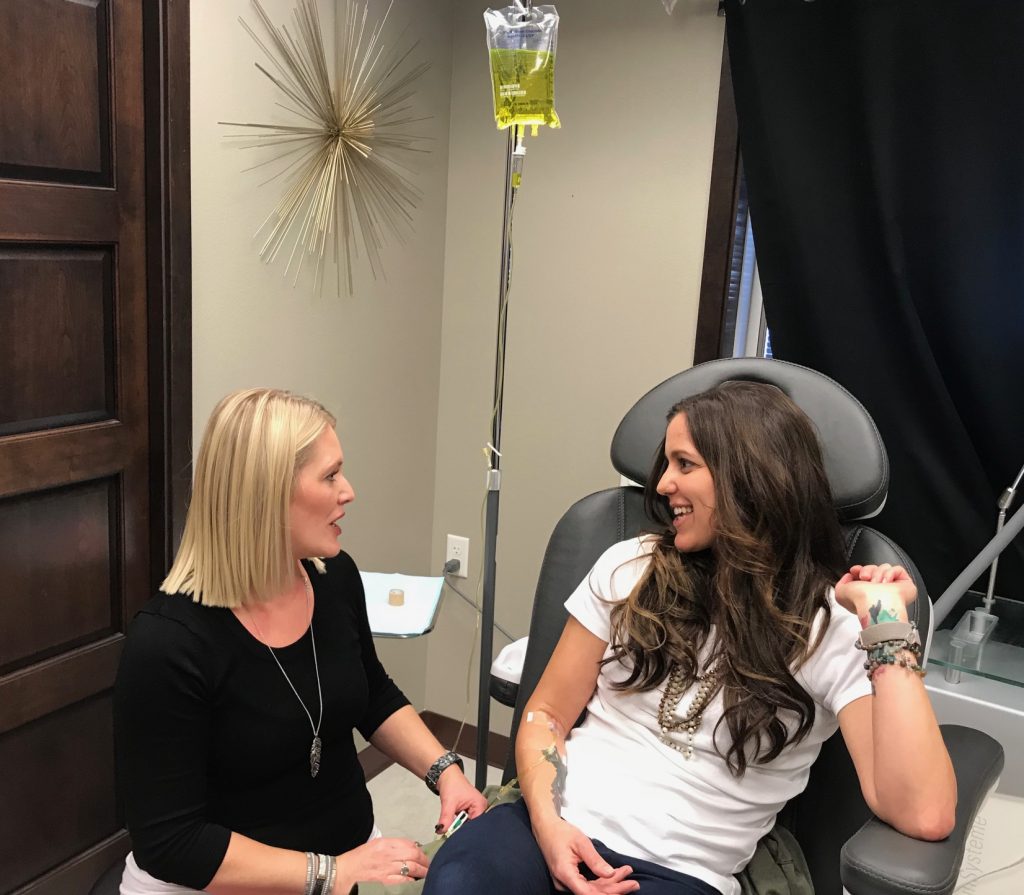 I have been hearing about this treatment for years and wondered if it REALLY works.
Technically, IV Hydration Therapy has been around since the 1950s but, it has been noticeably gaining popularity after celebrities like Kim Kardashian, Madonna and Simon Cowell have publicly praised it.
Our timing was perfect because I not only had a big evening ahead of me at my weekly Thankful Thursday event, but I also was getting ready to Emcee a big fundraiser and had a packed weekend ahead of me!
I knew the gist of what we were doing before I went in to receive my treatment but, I still had a lot of questions.
Take a moment to watch the entire prep process, and learn the answers to some commonly asked questions.
As you can see, the process is super easy. I can tell you it was no big deal to sit still and relax for a bit while the IV finished up.
The second I left, I headed to work and ended up having a crazy busy night. My apple watch said I did over two miles of walking!
As I mentioned, I had a jam-packed weekend with events, mom life and a few other things that tend to come up in the chaos that is my world.
I'm happy to say that I handled it all like a champ.
From running around for 6 hours in 4-inch heels with a sprained ankle to a birthday party at a bowling ally and of course 11 loads of laundry that needed to be done before Monday. I had more than enough energy to handle it all.
I have no doubt that the IV Hydration Therapy I choose helped me to conquer the weekend with a smile. I also credit it with keeping that runny nose sore throat cold that everyone else was fighting at bay.
I was expecting to crash a bit a few days after I received the treatment, but here I am 6 days later feeling as good as always.
Please take note, in the video we share that there are precautions that need to be taken, and if you are concerned, check with your doctor before you receive an IV Hydration Treatment.
In an article from Good Morning America, I found this quote about the treatment.
"People need to understand that it's another way to stay healthy but you need to take responsibility for your own health. You can't just rely on someone shooting you up with vitamins to stay healthy. That's missing the point."
IV Hydration Therapy is the perfect way to give yourself an extra boost, but in no way is it a substitute for overall healthy choices.
Categories: Beauty, Prairie Wife Style
Tags: , Beauty, boost, health and wellness, hydration therapy, iv hydration therapy, iv therapy, iv vitamins, stirling skin care clinic