Prairie Wife of the Week: Kristen Marler (Foster Care and Adoption)
Posted December 23, 2015 by Prairie Wife - 7 comments
There are many times through the years when The Cowboy and I have discussed our family, and our options for growing it…or staying where we are. At first it was how many children we wanted…then if we should have more…and now the ever looming, are we done? If I'm being honest other then a brief moment after we had our first miscarriage, we never really discussed adoption or foster care.
Then, I started this blog…and I suddenly began to learn about adoption. First there was Katie and her family of 8, and then the amazing story of Sarah and her experience with Project 143. While I still haven't felt personally called to adopt, I have become convicted that sharing these family's stories on my blog is a way that I can help some of the millions of orphans in our world. Along those lines, I've been looking for a family that could share their experiences with foster care .  Before this interview, I had no idea what it took to be a foster care parent, or what the process was really all about. I first met Kristen through a friend several years ago when they were just beginning their journey into the world of foster care. It was pure chance that I ran into her last month, and after we spent a few moments catching up, I asked her about becoming a Prairie Wife of the week. I am honored that she agreed to share her journey with our readers…and so pleased about her willingness to talk openly and honestly about the reality of being a foster parent.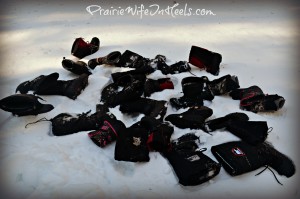 We are the Marler Family. We live on Casper Mountain and homeschool our 11 children. We have 10 sleddogs and on most afternoons, the dogs and the snowmobiles take the kids out on mountain adventures. But before all of this came to be…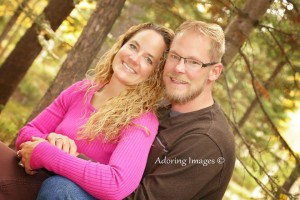 I (Kristen) grew up in Lander, WY with one older sister. Steve grew up in Douglas, WY the middle child, with an older brother and a younger sister. Neither of us had visions of having a large family.
Steve and I met at Casper College in 1994. We got married in 1997 and moved to Laramie where I finished my teaching degree and Steve completed a degree in Mechanical Engineering. We moved to Casper for Steve's first job, Wyoming Machinery, Caterpillar. I became a stay at home mom, and have remained in my current position as Mom over the years. Steve changed from his initial job after about 5 years and has worked for a small oil company in Casper for many years now.
We had our first born, a daughter, 2 years after we got married. She is now 16. Over the years, I continue to remind myself that if you want to hear God laugh, tell Him your plans. But OUR plans in the beginning were to have our kids close together so they'd all be in similar phases and enjoy similar age appropriate toys and games, etc. and then they'd all move into the next phase… So within 3 years and 4 months, we had 3 babies! 2 girls and a boy. Whew! I confidently declared, "DONE!" (Or uncle!, or I give!)
Here's where I believe God said, "If you think you want to make your own plans, I'll meet you half way. Indeed you can have your kids close together as you planned, but you are not DONE". And as of today, our kids' ages are 16, 15, 13, 12, 10, 9, 8, 8, 8, 6 & 5. Yes, keeping with our initial fast-paced birthing record, that's 11 kids in 11 years! Our oldest 3 kids are ours biologically. 6 of the younger kids are ours through adoption, and the other 2 are still in the process of being adopted by us. We have 6 girls and 5 boys.
Here's how this roller coaster got started…
When our youngest biological son was about 4 years old Steve and I began feeling like we could breath again. Or at least do something more than feed and change diapers! Both of us had had quiet callings to foster care. However, neither of us knew anything about it or anyone who had ever been a foster family. But at this time in our lives, we felt like God was more boldly urging us to become foster parents.
Foster care is a calling for us to help our community. Initially, we had no intentions to adopt, nor did we know that adoption was some-what common in the foster system. We took classes to become certified foster parents at the beginning of 2008. The same week that we finished the classes, we got a call for our first placement, a 12 month old little boy. 2+ years later, that little boy also became our first adopted son! Long story short, over the past almost 8 years, we have been short term and long term parents to many children. And to our surprise, there are many children in the foster care system who need a permanent home and to be adopted into a permanent family. We have had about 60 children within our community live in our home. 8 kids have permanently stayed.
To some, the numbers can be a misleading or confusing piece to our story. People may see our family and assume that adoption through foster care happens often because of the number of kids we have adopted. God has a vision for our family, but it won't look the same for everyone else. We have had many kids come and go. And we love them all, whether they are with us for a weekend, or stay forever.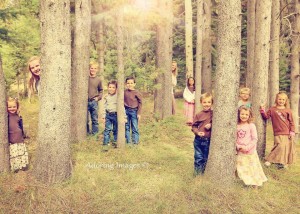 We often hear, "I'd never be able to be a foster parent, how do you give them back?" Our perspective is that our family can't be selfish and assume we can provide better or more than the path and the plan God has for each child's life. We have amazing fond memories of so many wonderful kids that have been a part of our family. We are thankful that God allowed each child to be with our family for however long that may be. The kids that come and then go, leave with a vision for what a loving family with a mom and a dad looks like. They have been released from the chaos or the abuse and neglect for a period of time long enough to know there is different and a better life out there for them. Most importantly, at our house they are introduced to Jesus. Jesus, who loves them unconditionally. Jesus, who can help them through any trial. Jesus, who we all need as our Savior. Is it difficult to send kids on their way after they've lived with us? Absolutely! Is it always a good situation they are being put back into? No. But we find comfort knowing that they were sent to our family for a reason and a season.
There are however, a few red flashing lights when considering being a foster family.
1. DO NOT choose to become a foster family if your spouse is not on board as well. Traditional parenting is a team sport, but parenting other people's children in difficult situations takes a very high commitment level to the children, their situation, and mutual parental and marital support.
2. Those willing to commit their time and energy to kids in foster care should expect nothing in return. With this mindset, I do however believe you will be blessed beyond measure! Adoption does happen through foster care, but the goal of foster care is reunification with biological family members, when possible. Therefore, if adoption is a person's only goal, having kids cycle in and out of ones home can be disappointing and painful.
There is good news for everyone with a heart for adoption though! There are kids right here in the Wyoming foster care system that are presently waiting for an adoptive home. And there are thousands of kids, typically 7 and older or sibling groups, that are waiting for an adoptive family throughout the United States. People considering foster care adoption may be unaware, but pleasantly surprised to find out that adopting kids from our US foster care system comes with no adoption fees to the foster/adoptive family. Medical care is also covered until the child is 18 years old.
So if your family feels like they could offer a child a loving home and security, but traditional adoption fees have caused hesitation, perhaps there is a child out there waiting for you to become more involved…
Becoming foster care certified is pretty painless. It involves 6 weeks of classes, twice weekly. A background check, a general medical/mental/physical health check, a home inspection, (Be not afraid! They are not inspecting for dust!!! Simply, is your home safe for kids to live comfortably.) There are other basic rules and guidelines based on the age of the child that also must be followed.
After the classes and paperwork are completed, the foster family decides what age group and or gender fits best into their family and lifestyle. When a child that fits the age and/or gender of your choosing comes into care, the Department of Family Services calls foster families to try to place him, her, or them. Many kids come into care in sibling groups as well, that they try to place together. The foster family always has the option of saying no, not a good time, not in town, etc. There is never a pressure to take a child into your home, if no is your answer. Although what your family thinks will be ideal, may not be who God sends to you! Yet the child is an unforseen blessing all the same!
Kids that come into care do not typically run into your home with enthusiasm, thrilled that they were just taken from the only people and life that they know (even though it's bad) and placed in a stranger's home. However with love, consistancy, boundries, and quality time the kids settle in and learn very quickly that although you can't fix their problems, you are there to help them. Kids in foster care do come with problems and issues that follow them into adoption as well if that ends up being their finality. However, there are so many really great kids in foster care. They love to be loved, they have huge hearts, and they really only wish that someone would give them a chance and the skills to be a good kid!
As a foster family there IS a lot of giving! A question we receive often is how do you have the time to take care of everyone, and homeschool, and housework, AND what about LAUNDRY!?! I said I was busy when I had one child, then busy with two children… A full schedule, that's just everyone's life! My life today is indeed busy and it takes all of me, every day to make it work. We are very well organized (not because it comes naturally to me, but because even a few, "I can't find my shoes" type experiences can really impact our day!) We all do all of the daily chores together. There are very few chores that I do by myself. It's a great way to create a community of togetherness, helping one another, and a respect for our property. Living on Casper Mountain is a lot of work. Most of our weekends and evenings are spent together on projects. And that's also Daddy time! Hauling wood, shoveling snow, fixing vehicles or the tractor, building things, caring for and cleaning up after all the dogs, etc. No matter how old or how young, everyone works alongside each other. Many hands make… well it's never quite light work, but honestly, we really do enjoy being together and sharing in each other's company!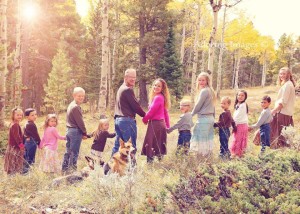 The final most- common question I get, "When do you get time for yourself?" If I spent my day trying to find time for me I would become very bitter and discouraged. It simply isn't available. I believe God placed me here as Mom, in this situation, with these kids, and this life, and it wasn't because He thought I needed a break! God equips me with what I need and sustains me through the trials. It's not easy, but walking in God's will never is. But rewarding, yes! It has a lot to do with perspective. I love my life and I'm content with what I have and in serving others. I just know that in this season, free-time and me-time are not an option. (But I do rejoice and think of it as a mini vacation when I take 3 or 4 kids to the grocery store instead of 8 or 9!)
Foster parenting, adoption, and raising a large family comes with challenges, commitment and hard work. However our entire family and extended family has grown bigger hearts and learned more acceptance than we ever could have taught without experiencing and living it. The blessings are abundant. We may apprear to be giving, giving, giving. But we are truly thrilled and humbled to be used as God's hands and feet in the lives of children.
As Luke 12:48 says, "Everyone who has been given much, much will be demanded; and from the one who has been entrusted with much much more will be asked." We pray that God will continue to entrust in our family. We also pray that those who may be fearful or hesitant to help children in tough situations will become bold and step out and allow God to write their foster or adoption story too.
Categories: Life As It Happens, Prairie Wife of the Week
Tags: , Adoption, Foster Care, Foster parenting, home school, interview, large families, Prairie Wife of the Week